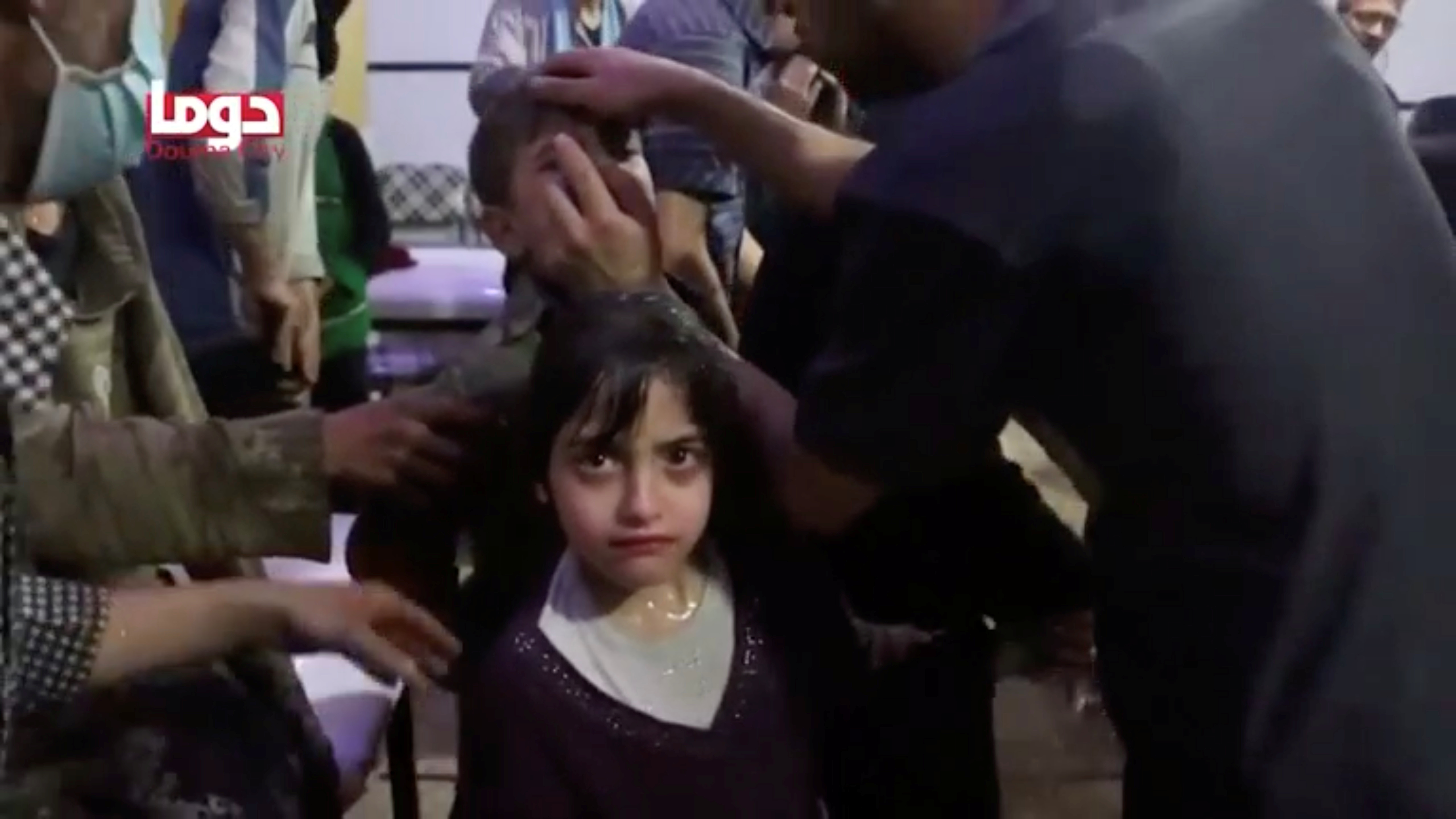 By Steve Holland and Suleiman Al-Khalidi
WASHINGTON/AMMAN (Reuters) – U.S. President Donald Trump on Monday condemned a suspected chemical weapons attack on a rebel-held town in Syria that killed dozens of people and said he would decide on a response probably by the end of the day.
Speaking at a Cabinet meeting, Trump said he was talking to military leaders and would decide who was responsible for what he called a "heinous attack" on innocent Syrians — whether it was Russia, Syrian President Bashar al-Assad's government, Iran, or all of them together.
"We'll be making that decision very quickly probably by the end of the day. But we cannot allow atrocities like that," Trump said. "Nothing is off the table," he said, when asked if U.S. military action was a possibility.
Asked if there was any doubt over who was responsible for the attack, Trump said: "To me there's not much of a doubt but the generals will figure it out probably over the next 24 hours."
International bodies led by the Organisation for the Prohibition of Chemical Weapons (OPCW) were also trying to establish exactly what happened on Saturday in Douma, a besieged town in eastern Ghouta near Damascus.
The Syrian government and its ally Russia have denied involvement in the attack.
U.S. government sources said on Monday that the administration's initial assessment suggested that a nerve agent was used but further evidence was needed to determine what specifically it was.
U.S. Defense Secretary Jim Mattis also said earlier he would not rule out military action such as air strikes if blame was proven. He accused Russia of falling short on its obligations to ensure that Syria abandoned its chemical weapons capabilities.
"The first thing we have to look at is why are chemical weapons still being used at all when Russia was the framework guarantor of removing all the chemical weapons," Mattis told reporters.
Trump said on Sunday after initial reports of an attack that there would be a "big price to pay".
A Syria medical relief group said at least 60 people had been killed and more than 1,000 injured in several sites in Douma.
The stakes were further raised on Monday when unidentified war planes struck a Syrian air base near Homs, killing at least 14 people, including Iranian personnel. Syria and Russia accused Israel of carrying out the attack.
Israel, which has struck Syrian army locations many times in the course of its neighbour's seven-year-old civil war, has neither confirmed nor denied mounting the raid.
But Israeli officials said the Tiyas, or T-4, air base was being used by troops from Iran and that Israel would not accept such a presence in Syria by its arch foe.
The two incidents in Douma and Tiyas demonstrated the complex and volatile nature of the Syria war, which started in March 2011 as an anti-Assad uprising and now involves a number of countries and a myriad of insurgent groups.
Assad now has the upper hand in the conflict, largely thanks to Russian intervention on his side, but any international action could delay his efforts to bring it to close.
RANGE OF OPTIONS
The United Nations Security Council will meet on Monday following rival requests by Russia and the United States to discuss the situation. Senior officials in the Trump administration were also to meet in the White House.
Britain said it was working with its allies to agree a joint response to the reported chemical attack on Douma.
"If there is clear verified evidence of the use of chemical weapons and a proposal for action where the UK would be useful, then we will look at the range of options," Prime Minister Theresa May's spokesman said.
France said it would work closely with the United States on a response to the suspected chemical attack. Both countries agreed responsibility for the strike must be established.
President Emmanuel Macron, who spoke to Trump by telephone on Sunday, had issued repeated warnings previously that France would strike if proof of lethal chemical attacks were established. But Paris stopped short of apportioning blame on Assad's forces for Saturday's attack.
Trump had referred in a Tweet to "Animal Assad" and criticised Russia and Iran for backing the Syrian leader, directly naming Russian President Vladimir Putin.
Russian Foreign Minister Sergei Lavrov said such allegations were false and a provocation. Lavrov also said the strike on the T-4 base was a dangerous development.
Syrian government forces had launched an air and ground assault on Douma, the last rebel-held town in the eastern Ghouta district, on Friday.
The Union of Medical Care Organizations (UOSSM) said at least 60 people had been killed by the alleged chemical attack.
"The numbers keep rising as relief workers struggle to gain access to the subterranean areas where gas has entered and hundreds of families had sought refuge," it said.
One video shared by activists showed bodies of about a dozen children, women and men, some with foam at the mouth. Reuters could not independently verify the reports.
The OPCW, based in the Hague, said people were possibly gassed to death by a poisonous cocktail of sarin and chlorine.
Dr. Muhammad, a doctor in Ghouta quoted by UOSSM, said patients were coughing blood, a symptom not seen in previous chemical attacks.
U.N. war crimes investigators had previously documented 33 chemical attacks in Syria, attributing 27 to the Assad government, which has repeatedly denied using the weapons.
The United States fired missiles on a Syrian air base a year ago in response to the killing of dozens of civilians in a sarin gas attack in an opposition-held town in northwest Syria, blamed on Assad.
RED LINES
The Syrian Observatory for Human Rights, a British-based monitor, said at least 14 people were killed in Monday's air strike on the T-4 base, including foreign fighters – a reference to Iranian-backed Shi'ite militia members, mostly from Iraq, Lebanon and Iran fighting alongside the Syrian army.
Iran's Fars news agency said three Iranians were killed.
The Russian military said two Israeli F-15 war planes carried out the strike. Interfax news agency cited the Russian Defence Ministry as saying Syrian air defence systems had shot down five of eight missiles fired.
Syrian state news agency SANA, citing a military source, carried a similar report.
The Israeli government had no immediate comment.
Israeli Housing Minister Yoav Galant, while not confirming that Israel had carried out the attack, said his country had clear interests in Syria.
"We laid down red lines there, which said that we would not allow Syrian land to be a springboard for game-changing weaponry to Lebanon, we would not allow the building of an Iranian army in Syria and we would not allow the opening of another front on the Golan Heights," he told Israel Radio.
"In this context we are taking action with all means, over time."
In Washington, Republican U.S. Senator Lindsey Graham, a member of the Senate Armed Services Committee, urged Trump and his administration to destroy Assad's air capabilities, enforce safe zones inside Syria, and target Assad directly.
"This president has the chance to do exactly the opposite of (former U.S. President Barack) Obama – send a strong signal that there's a new sheriff in town and America's back," Graham told Fox News in an interview.
(Reporting by Nayera Abdallah, Suleiman Al-Khalidi, Ellen Francis, Maria Kiselyova, Dan Williams, John Irish, Matt Spetalnick; Writing by Angus MacSwan; Editing by Nick Tattersall)