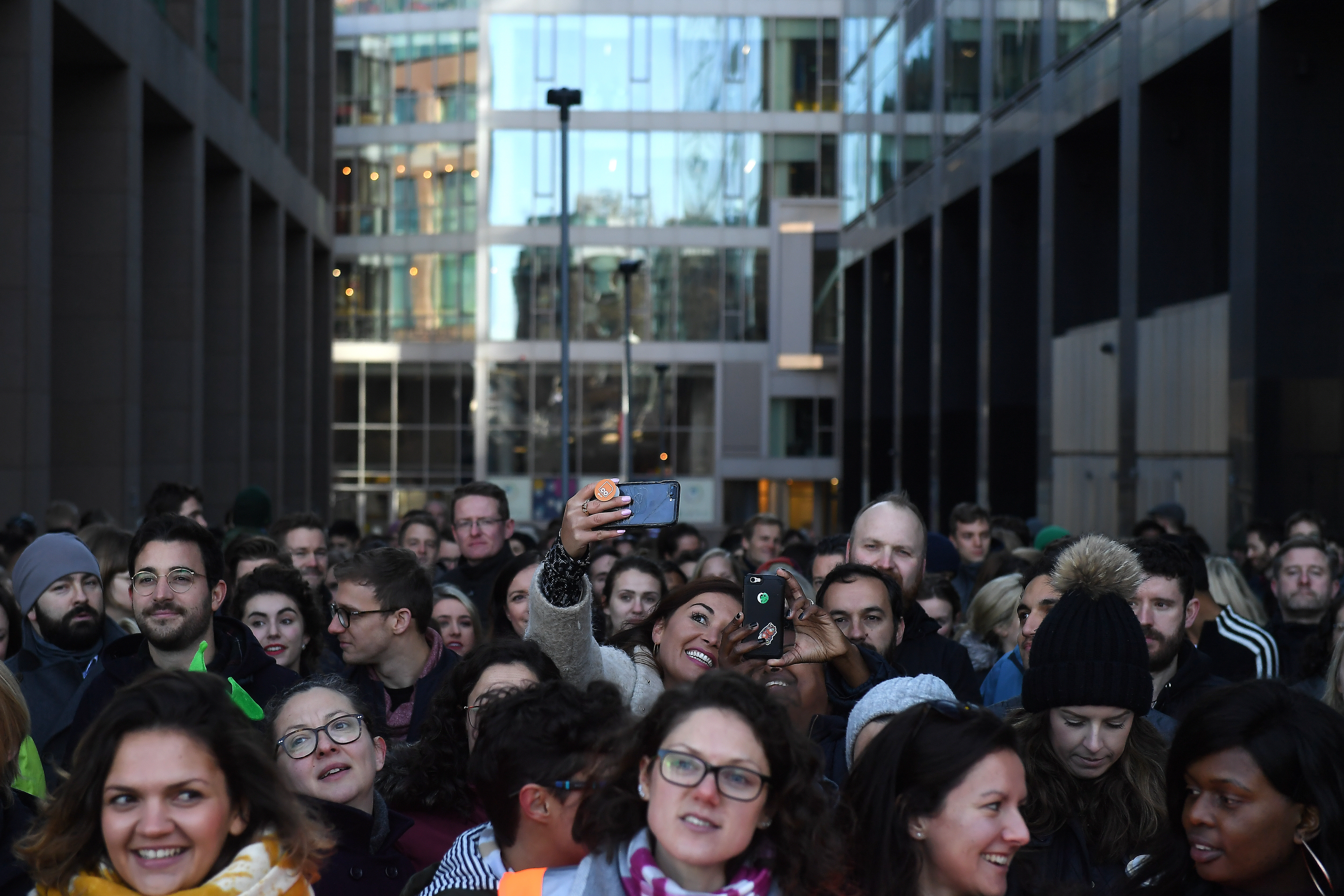 By Graham Fahy and Angela Moon
DUBLIN/NEW YORK (Reuters) – Over 1,000 Google employees and contractors in Asia, Europe and the United States staged brief midday walk-outs on Thursday, with more expected to follow at California headquarters, amid complaints of sexism, racism and unchecked executive power in their workplace.
Hundreds of women and men filed out of Google's office in New York City and silently walked around the block for about 10 minutes around 11:00 a.m. ET. A few held sheets of paper with messages including "Respect for women."
Two blocks away, a larger crowd of people that appeared to number a thousand or more, including Google employees and New Yorkers not working for the company, filled a small park. Some held larger signs than those at the Google office, with more confrontational messages including "Time's up Tech."
"This is Google. We solve the toughest problems here. We all know that the status quo is unacceptable and if there is any company who can solve this, I think it is Google," said Thomas Kneeland, a software engineer who said he has been at Google for three years.
Google employees have been getting a lot of emails from managers and colleagues to participate in the walkout recently, he said. Just around 11 a.m., people started forming groups to leave the building. "We had engineers on our team bring their pagers since they were on-call, but that's how we thought of the walkout. It's important."
The demonstrations follow a New York Times report last week that said Google in 2014 gave a $90 million exit package to Andy Rubin after the then-senior vice president was accused of sexual harassment.
Rubin denied the allegation in the story, which he also said contained "wild exaggerations" about his compensation. Google did not dispute the report.
The report energized a months-long movement inside Google to increase diversity, and improve treatment of women and minorities.
In a statement late on Wednesday, the organizers called on Google parent Alphabet Inc to add an employee representative to its board of directors and internally share pay-equity data. They also asked for changes to Google's human resources practices intended to make bringing harassment claims a fairer process.
Google Chief Executive Sundar Pichai said in a statement that "employees have raised constructive ideas" and that the company was "taking in all their feedback so we can turn these ideas into action."
GLOBAL ACTION
Hundreds more filed out of its European headquarters in Dublin shortly after 1100 local time, while organizers shared photographs on social media of hundreds more leaving Google offices in London, Zurich, Berlin, Tokyo, and Singapore.
Irish employees left a note on their desks that read: "I'm not at my desk because I'm walking out with other Googlers and contractors to protest sexual harassment, misconduct, lack of transparency, and a workplace culture that's not working for everyone," national broadcaster RTE reported.
Google employs 7,000 people in Dublin, its largest facility outside the United States.
The dissatisfaction among Alphabet's 94,000 employees and tens of thousands more contractors has not noticeably affected company shares. But employees expect Alphabet to face recruiting and retention challenges if their concerns go unaddressed.
Much of the organizing earlier this year was internal, including petition drives, brainstorming sessions with top executives and training from the workers' rights group Coworker.org.
Since its founding two decades ago, Google has been known for its transparency with workers. Executives' goals and insights into corporate strategy have been accessible to any employee.
But organizers said Google executives, like leaders at other companies affected by the #metoo movement, have been slow to address some structural issues.
"While Google has championed the language of diversity and inclusion, substantive actions to address systemic racism, increase equity, and stop sexual harassment have been few and far between," organizers stated.
They said Google must publicly report its sexual harassment statistics and end forced arbitration in harassment cases. In addition, they asked that the chief diversity officer be able to directly advise the board.
(Additional reporting by Padraic Halpin in Dublin, Paresh Dave in San Francisco, editing by Larry King and Nick Zieminski)