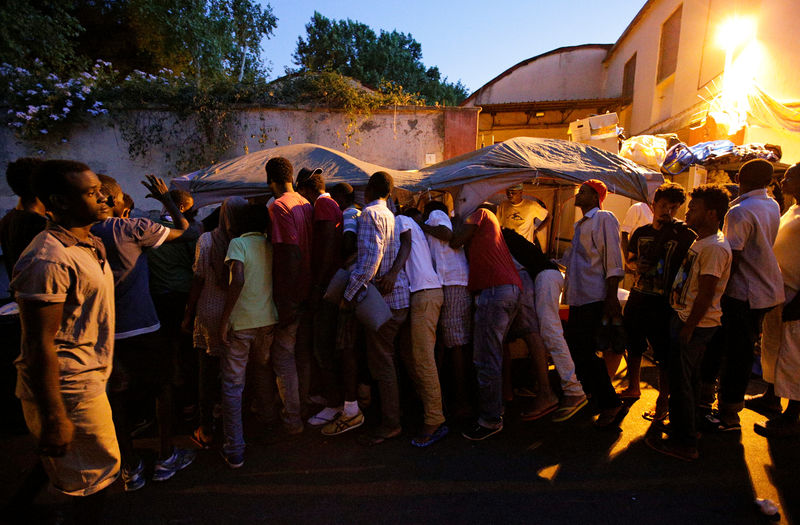 By Steve Scherer
ROME (Reuters) – Tempers are flaring between increasingly frustrated residents and boat migrants mostly from Africa using a well-known transit camp in central Rome as temperatures soar this summer.
Italy is taking in thousands of boat migrants every week for a third year in a row, and friction is common between them and those who live along the path many take on their journey toward northern Europe.
Set up by volunteers, the Baobab center, by Rome's Tiburtina train station, was shut down by police in December in the wake of the Paris attacks and because the European Union wants Italy to stop migrants from moving on, not help them to do so.
But Baobab volunteers quickly set up a camp on the street in front of the old shelter with tents and chemical toilets, serving three meals a day, and migrants have flocked there in their thousands.
"We can't open our windows because of the stench," said Valeria, who lives with her six-year-old son and husband next to the camp in Via Cupa – Gloomy Street in English.
"The chemical toilets are never cleaned and dirty water leaks onto the street. It's inhumane for them and for us."
Baobab organizers estimate 40,000 have come through in the past year. Last week, about 300 men, women, children and teenage boys slept on mattresses laid out on the road, and the numbers are expected to rise as the summer wears on.
On one afternoon last week, a mother bathed her baby in a plastic tub, young men played table football, and women braided each other's hair on a wicker couch – all in under the hot sun.
Residents and Baobab volunteers alike have been calling on Rome's city government to provide a more suitable location, but after more than seven months none has been found.
The administration of Rome's new mayor Virginia Raggi, elected in June, is working with institutions and humanitarian groups to come up with a plan by Aug. 15 to get the migrants off the road and into a more adequate location, the city's social affairs office said in a statement.
Italy has been on the front line of Europe's immigration crisis, taking in more than 420,000 boat migrants since the start of 2014, official figures show.
The state provides shelter to some 140,000 asylum seekers – seven times more than it did in 2013 – in centers up and down the Italian peninsula.
POST-ATTACK FEARS
Volunteers argue that shelters for migrants in transit are needed not only for humanitarian reasons, but also to keep them out of the hands of criminal people smugglers.
During one afternoon in late July, two Baobab volunteers escorted four young Eritreans to buy bus tickets for Milan. Their final destinations were Germany, Norway and Holland.
"Had we not helped them, they could have fallen prey to people smugglers," said Sergio, a retired civil servant and Baobab volunteer.
Residents and businesses are also worried about security.
At the end of July, in the wake of violent attacks in Europe that killed hundreds of people, an insurance office that employs 19 people relocated to another part of Rome from Gloomy Street, saying both clients and employees no longer felt safe there.
"Everyday there are attacks around Europe," said Gianluca Fasano, owner of the insurance office. "We have no idea who is staying there. We hope they're all good people, but we don't know."
Eritrean, Somali and Sudanese are the most common nationalities found at Baobab because they often have family members already living in other countries. Typically they stay no longer than two or three days before moving on.
Baobab is fully operated by volunteers – doctors, retired civil servants, designers and others – and funded by donations. Each week its Facebook page asks for specific items, such as small-size men's shoes or Ibuprofen. Someone donated a car battery so migrants can charge their phones.
"We're the first to say that the situation is inadequate," said Francesca Del Giudice, a Baobab founder. "We don't think it's a dignified shelter for them. We want to take them off the street; instead they're sleeping on the street."
(Editing by Louise Ireland)